« Back to News Home
Super Casino Offers Chance to Win Gadget Show Live tickets
Posted on - 07/10/13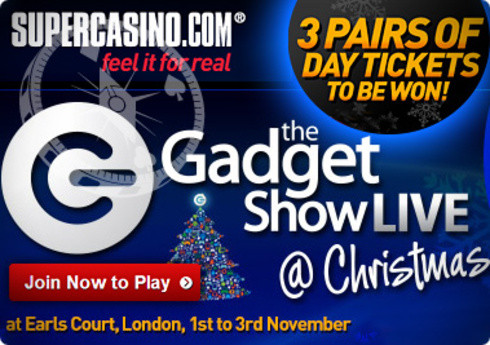 Check out this promotion at the Super Casino and you may have the chance to get your hands on day tickets for two for the Gadget Show Live!
Gadget enthusiasts, take a look at this opportunity! The Super Casino is presenting customers with the chance to win a pair of day tickets for the Gadget Show Live at Christmas. This exciting event is scheduled to take place atEarls Court inLondon at the beginning of November 2013.
The way in which you may participate in this promotion is by depositing a minimum of £20 and play your choice of game for real money at the Super Casino during the promotional period. The promotion is running from 4th October until 14th October 2013. The lucky winners will be selected randomly out of the eligible players in a prize draw that is due to take place on 14th October. The draw will take place during the Super Casino show and the names of the three winners will be announced live! Each of the three winners will receive 2 days tickets for the Gadget Show live and may attend the event on one of the days between 1st and 3rd November 2013.
Please do check out the full details of the promo that are displayed at the Super Casino site, to avoid any misunderstanding. It is worth noting for example that in this promo, bonus cash may not be used as a part of the required deposit amount and that you may earn up to five entries to the prize draw.
Make your way on over to the Super Casino and earn your prize draw tickets for the Gadget Show Live event that are up for grabs! Good luck and have fun!