« Back to News Home
Great Festive Opportunities at the Jackpot 247 Site
Posted on - 12/12/13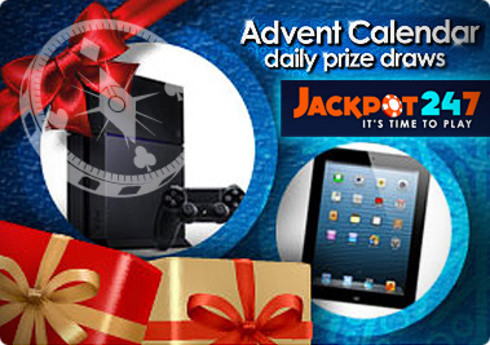 In this period leading right up to Christmas you may have the chance to earn fantastic prizes at the Jackpot 247 site!
Christmas is nearly here, but just before it appears, you may take advantage of the opportunity to win attractive prizes in daily prize draws at the Jackpot 247 casino! This site boasts an Advent Calendar that bears great gifts in prize draws that are taking place each day during the promotional period.
Just look at what you may have the chance of winning! In this appealing promo, cool prizes await such as gadgets like a Nintendo Wii console, Microsoft Xbox and a Sony PlayStation 4. In this promotion, you may also have the opportunity to get your hands on amazing prizes like a UK city Break, Cineworld 2D Cinema Tickets among other delights! Take a look at the Jackpot 247 site to find out exactly which prize is up for grabs on which day!
In order to participate in a daily prize draw you need to make sure that you deposit a minimum of £20 and then spin, roll or play on your choice of game for real money. Please bear in mind that only real money wagers are considered for this promotion and that bonus money bets are not accepted.
This promotion is running each day from 1st December until 25th December with a daily prize draw. The qualification period for each individual draw is from the first to the last minute of the day. The promo is available to real money players at the Jackpot 247 casino site and also real money account holders at the Super Casino.
Make your way on over to the Jackpot 247 Casino and check out what you may have the chance to gain in the Advent Calendar's daily prize draw!