« Back to News Home
32 Days of Christmas at the 32Red Casino
Posted on - 07/12/13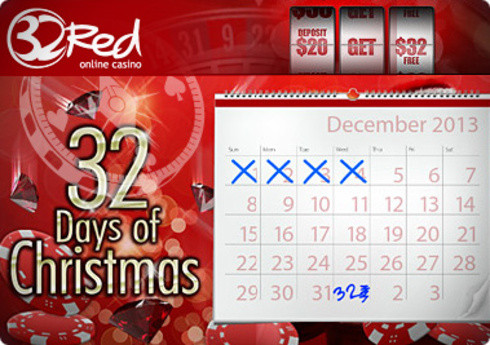 This year, at the attractive 32Red Casino site, you may enjoy 32 Days of Christmas!
Who ever heard of 32 Days of Christmas? Well, this year, it is happening at the 32Red Casino! If you are a real money player at the 32Red Casino, you too may get into the festive spirit and participate in the site's 32 Days of Christmas promotion!
32 Days of Christmas at the popular 32Red Casino are bursting with bonuses, giveaways and benefits. This promotion is running from 1st December 2013 until 32nd December or rather 1st January 2014 and offers its customers 32 days of fun and offers!
All you need to do in order to join in the action is to check out each day what is happening at the site and what is the particular day's special offer! This is simple! Just log in at the site in the usual manner! The 32 Days of Christmas promo boasts various deposit bonuses, free roll slots tournaments, festive free games giveaways, Red Ruby Boots and still more!
Please do take a look at the site and read the information related to the different offers! It is worthwhile checking out the terms of the individual offers in advance in order to avoid any misunderstanding.
If you have not yet registered at the 32Red Casino you may take advantage of a great welcome offer! Upon your first deposit at the site you may gain a £32 bonus for each multiple of £20 in the deposit. Powered by Microgaming, the 32Red Casino boasts a fantastic collection of more than 500 games including all the top favourite casino games in additional to some lesser known games.
Make your way to the 32Red Casino and have a very merry 32 Days of Christmas!