« Back to News Home
Mr Green Offers IGT £1 Million Prize Draw
Posted on - 06/05/13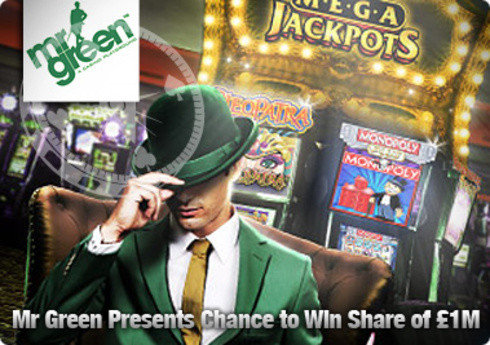 The massive amount of £1 million is up for grabs this summer in an IGT powered Power Prize Draw and this action is available at Mr Green.
As a part of the £1 Million Power Prize Draw, there are separate prize draws taking place with a total prize fund of £1 million! Together with IGT, Mr Green is presenting its customers with the opportunity to have a go at winning a share of the prizes each week during the months of May, June, July and August 2013. Each of these months boasts the huge amount of £250,000 in prizes! Just in May there are 50 prizes of £1,000 up for grabs each week!
So what do you have to do in order to have the chance of winning? Well, by playing at top IGT pursuits you may earn entries into the prize draws! While you play and have fun at the featured games of the week, each £1 wagered will produce an entry for the prize draw. There is still more! Each bet of £10 on the featured games will earn another prize draw entry. It almost goes without saying that the more entries you possess, the greater your chances may be of winning!
Take a look at what is happening during May in this £1 Million Prize Draw promotion! Prize draw entries for the different raffles may be earned between the dates 1st and 5th May, 6th and 12th May, 13th and 19th May, 20th and 26th May and 27th and 31st May. The featured games for these prize draws during this month are MegaJackpots Cluedo, MegaJackpots Monopoly and MegaJackpots Cleopatra.
Make your way to Mr Green and you may enjoy fun online entertainment and have the chance to participate in IGT's £1Million Power Prize Draw promotion!