« Back to News Home
Go Crazy with Coral Mini Madness
Posted on - 04/06/13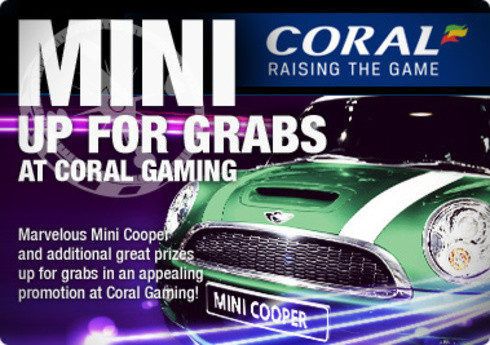 Coral Gaming has introduced an exciting promo that boasts cool Mini prize bundles plus the chance to win a fantastic Mini Cooper!
Make your way to the Coral Casino and you too can have the chance of winning the amazing main prize of a new MINI Cooper! The lucky winner of this brand new car will be determined in totally random prize draw. The Coral Mini Madness promotion is running from 27th May until 30th June 2013.
In addition to entry to the draw for the Mini, there are other great prizes up for grabs in this promo! Such prizes include mini iPads and mini breaks! The word mini may sound small, but these are great mini prizes!
As for what you need to do, this is simple! In order to be in with a chance of winning a Mini Cooper, you firstly need to send a text message of "mini" to 82211. After this you are required to follow the instructions included in a test message response. You may also enter the competition and have the chance to win a Mini bonus Bundle, a Mini iPad or a VIP Mini Break. Here you are required to place bets of £10 on each of the five different areas mentioned below. These separate areas are poker, casino, games, sports and bingo. If this betting requirement is fulfilled on one week of the promotional period, then the player may gain a Mini Bonus Bundle. The special bundle includes a £10 casino bonus, a £5 bingo bonus, a £5 free sports bet and a £5 poker token. Do check out the information regarding the promotion that is detailed at the site!
Don't waste any time and roll along to the Coral Casino where you may get your entry for the Mini Cooper prize draw!