« Back to News Home
Coral Gaming Has Bonuses Up for Grabs
Posted on - 13/08/13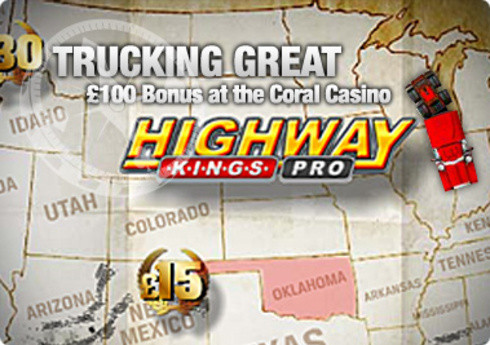 Check out what is going on at the Coral Casino as there are bonuses up for grabs!
Coral Gaming is offering its customers the opportunity to enjoy 25 days of trucking and deliveries and bonuses! You may enjoy fun action at the Highway Kings pro slot and have the chance to earn bonuses along the way!
The basic idea of the promo is to play at the Coral Casino spending £10 per day at the Highway Kings pro slot. For each set of 5 days that you play you will gain a delivery bonus. Make 5 deliveries and a £30 bonus will be yours!
The size of the bonus that you earn will depend on the number of deliveries that you make during the promotion. For example, 1 delivery is worth a £5 bonus and 2 deliveries a £10 bonus. A total of 5 deliveries will produce the maximum bonus of £30. However, this is not all! Completing 5 deliveries will also produce an entry ticket to a prize draw with additional bonuses of £100 waiting to be won. In this promo 10 participating gamers will receive a Trucking Great £100 Bonus after being selected in a prize draw.
This Trucking Great promotion is running at the Coral Casino from 26th July until 19th August 2013. Don't forget that the more deliveries you make, the greater your bonus may be!
If you have not registered at this attractive online casino site, you may benefit from a £10 no deposit bonus as you sign up! The Coral Casino also offers its new players a generous first deposit bonus. Taking advantage of this offer means that you may receive a £50 bonus after depositing £10 as an initial deposit!
Start making deliveries in this Trucking Great promotion at the Coral Casino!