« Back to News Home
Amazing Win at Super Casino
Posted on - 17/04/13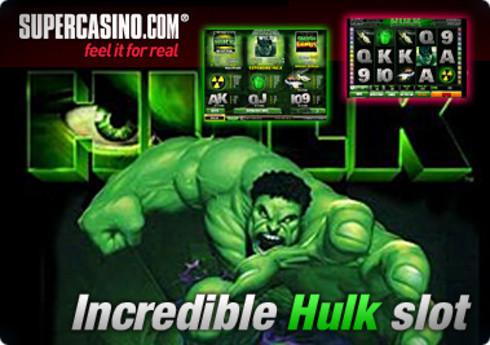 More than £260,000 was won by a very lucky player while playing The Incredible Hulk slots game. The player hit the games progressive jackpot and instantly won a large amount of money.
It's always exciting to win a jackpot, but winning a progressive one adds an extra level of excitement to things. One player who was spending time on The Incredible Hulk slots game at the Super Casino found out just how exciting winning a progressive jackpot really can be when they hit the progressive for £260,635.58!
The progressive jackpot was won by a player known on the casino by the username, Sky75pies. This jackpot was won on April 15th and the player hit the jackpot while playing just £20. This goes to show that you don't always have to play large amounts of money in order to win big.
Marvel slots games have become very popular with players looking forward to excitement while having the chance at huge jackpots. The Marvel slots are connected to four different progressives and The Incredible Hulk is one of those fantastic Marvel games.
The progressive jackpots players have a chance of winning on the Marvel slots include the Power, Extra Power, Super Power, and Ultimate Power. They are all random jackpots which add more excitement to the thought of winning one of them.
There has been a new feature added to Super Casino in which customers are presented with an opportunity to play more games at one time. The way it works is players can enjoy as many as three additional games which mean three times the fun!
Super casino is an amazing place for players to go to when they want to play high quality games. On top of impressive games the players also get to enjoy exciting promotions which offer them many chances to ear spectacular prizes. By using the promo code MEGA300 new players even get to enjoy a welcome bonus good for as much as £600.
Super Casino is a great place to go if you want to have a shot at becoming the next big winner!