« Back to News Home
32Red Casino Offers Fairground Game Bonus
Posted on - 01/05/13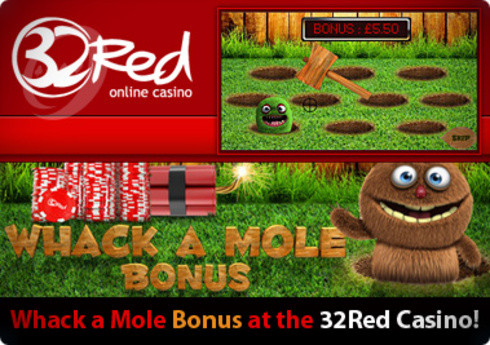 Evolving from the fairground, Whack a Mole has made its way to the 32Red Casino.
It's Whack a Mole time at the 32Red Casino! This game, that became a success in the fairground, is appearing in an online form offering bonuses at the 32Red Casino.
Between the dates of 24th April and 22nd May, the Whack a Mole promo is rolling at the 32Red Casino and is available to real money players at the site. This promotion presents players that have received an invitation by e-mail, with the chance to earn great bonuses each day! Eligible gamers may claim up to one bonus each day.
Whack a Mole features cartoon mole characters and the idea is to hit as many of the moles as you can! Each hit may produce a different reward and in this way your bonus may increase in size! You must avoid the sticks of dynamite as if you hit one of these you will be right back at your starting point! So, you need to be fast with sharp reactions to gain the largest possible bonus.
If you are not yet a member at the 32Red Casino, take a look as you may just be missing out! Powered by Microgaming, this site boasts a huge collection of more than 500 games! This selection includes all the classic favourites such as blackjack, roulette, poker and slots plus a choice of various lesser known pursuits. The 32Red Casino presents its customers with the opportunity to enjoy fun online entertainment and take advantage of cool promos and to play for hot jackpot prizes! As a new player, you may gain a £32 bonus for each £20 deposited in a first deposit at the site.
Get ready to earn your Whack a Mole bonus at the 32Red Casino and good luck!